Ad conversion tracking will be set up through your Google Ads account. Here is a quick tutorial on how to set up tracking!
In This Article:
3.) Manual Set Up
4.) Conversion Window Settings
1.) Navigate to Set Up
Open your Google Ads Account
At the top, select "tools & settings"
2.) Create a New Conversion
Select "+ new conversion action"
Select "website"
Scan the URL for the website where you want to measure conversions
Scroll to the bottom and select "add conversion action manually"
3.) Manual Set Up
In the Goal and Optimization section, choose "page view"
Name your conversion
In the Value section, choose "Use the same value for each conversion" and enter one or more as its value
In the Count section, select "one"
4.) Conversion Window Settings
At the bottom, ensure conversion window settings mirror the example.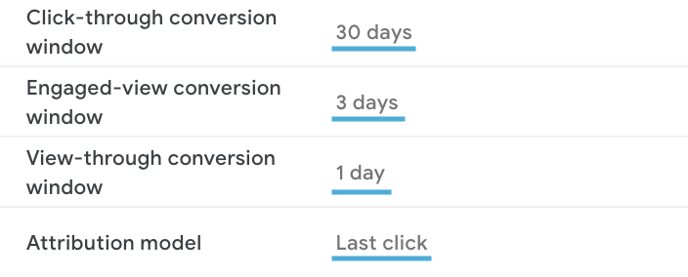 Click-through conversion - 30 days
Engaged-view conversion - 3 days
View-through conversion - 1 day
Attribution model - Last click
5.) Apply Your New Conversion
Follow on-screen instructions to apply your conversion tag.
Global Site Tag

Apply this tag to every single page on your website globally
Copy the tag below and paste it in between the <head></head> tags on every page of your website. You only need to install the global site tag once per account, even if you track multiple actions.
Event Snippet

Apply the event snippet to all VDP pages on your website
Copy the snippet below and paste it between the <head></head> tags of the VDP pages, right after the global site tag.