This article will detail the steps to determine whether or not a retailer is providing inventory data to Google through the Google Merchant Center interface.
When retailers sell their wares on Google, the mechanism by which they do so is Google Merchant Center. GMC is where all of the product inventory is housed on Google, it is a virtual warehouse of the retailer's products that can then be used to populate Google Ads or Google's "See What's In Store" feature on Google Business Profiles.
An easy way to see if a retailer has a GMC account is to search for the location on Google Maps. For example, searching for the PC Richard & Son location on W 23rd St, in NYC on Google Maps in a browser: We see the following link to "Search items at this store". That means this location has its inventory in its Merchant Center Account: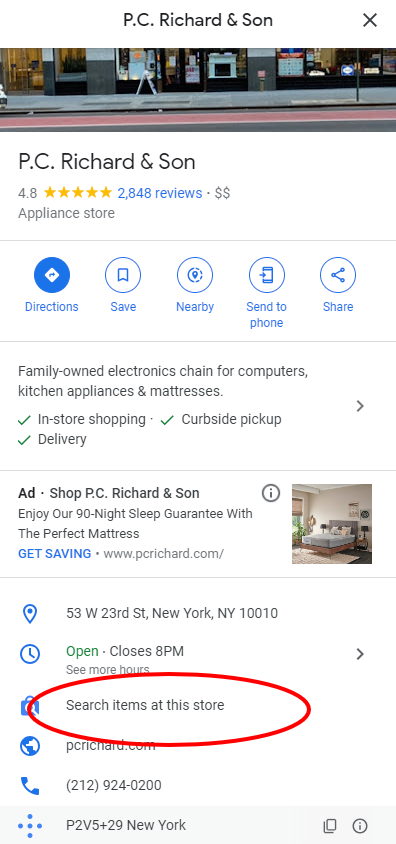 If conducting a search for the same location on a mobile device, you will see a "See What's in Store" widget. This is another signal that this location has its inventory in its Merchant Center Account as well: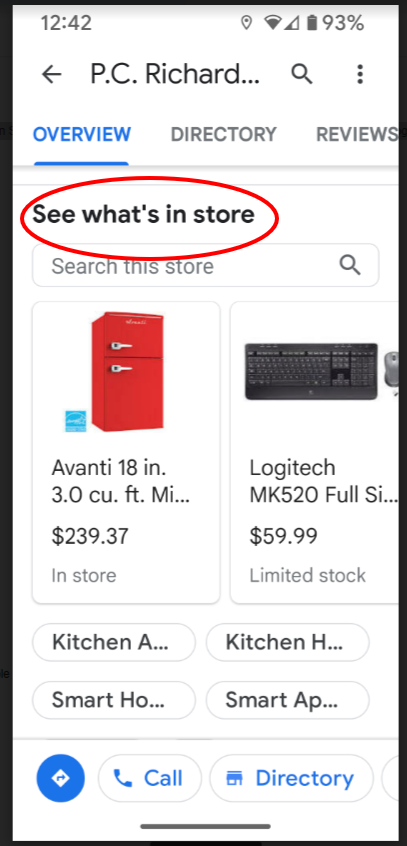 Most often, if inventory is available at one of a retailer's locations, it is available at most or all of the retailer's locations. However, this is not always true. We always recommend performing an analysis to determine if a retailer is using Google Merchant Center for each location.