dbaPlatform offers a wide range of pricing options to best fit your needs. Choose from one of our bundles or from our a la carte option, all designed with your business in mind.
---
In This Article:

Bundle Pricing

Pro Services Pricing

A La Carte Pricing
Bundle Pricing
dbaPlatform has three main bundles that start at the following monthly costs per location:
Basic - $10.99
Pro - $19.99
Premium - $34.99
Note: Each bundle requires a minimum of 10 locations to qualify for bundle pricing.
Take a look at some of the features each bunch includes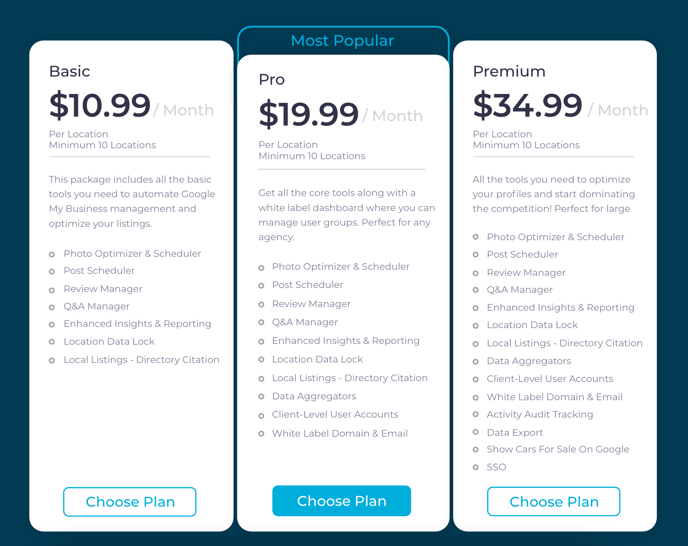 To review all features in each bundle and compare which option is best for you, head to our pricing page.
A La Carte Pricing
Don't need everything that comes with one of our bundles? Not a problem. We offer a la carte pricing on all dbaPlatform features, enabling you to customize your subscription and only pay for what you need.
From scheduling photos to live inventory, we have every dbaPlatform feature for you to choose from. Check them out! All pricing is reflective of an annual subscription.


Pro Service Pricing
Pro Services is available for those who sign up for one of our bundles or our a la carte options.
Want these features but don't have the time to manage your Google My Business accounts? We have a team of pros that will help take the heavy lifting off your plate. Pro Services has two pricing options:
$85/per month per location with an annual subscription

$135/month per location month-to-month
Tip: If you aren't ready for an annual subscription, you can cancel anytime with our month-to-month plan.
If you aren't sure Pro Services is right for you, review the perks here.